Payday loans up to R4,000
Low-interest starting from 19.6%
Repayment up to 30 days
In-page navigation
---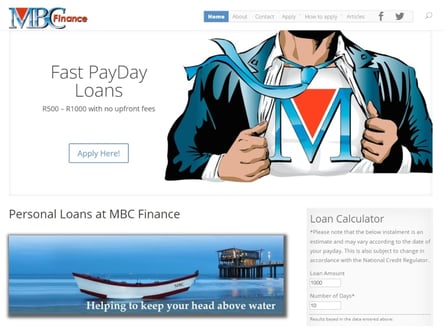 Author MBC Finance. Screenshot of MBC Finance website.


[Accessed January 31, 2023]
MBC Finance - Affordable payday loans
MBC Finance is a company that provides loans with a direct connection to short-term loans, find out more about their short-term loans.
MBC Finance is a reliable financial services provider that's dependable and abides by the requirements of the National Credit Act.
Swift service delivery
MBC Finance believes in swift service delivery and they have a large number of happy customers. At times life can be very unpredictable and unforeseen things happen that people don't budget for and need assistance by means of a payday loan.
This is where MBC Finance is able to assist with a personal loan, they offer R2 000 over a 30-day period.
Your repayment is fixed on personal loans, which means your repayments will never change, increase in interest loans will not affect you, they have a real-time approval system that makes sure your application is approved as soon as possible.
Same-day loan approvals
So if you're in a hurry and urgently need assistance with a personal loan you've come to the right place.
Should you qualify for a personal loan with them and all your documentation is in order you'd most likely receive your money on the same day.
Their office hours are from 8 am to 4 pm Monday to Friday and 8 am to 11 am on Saturday.
Hassle free online loan applications
This is a world where everything is a click away with convenience on your doorstep, well so is their application.
Applying for a loan at MBC Finance is effective, fast and very simple. Their quick loan service is completely online and free of hassle. All you need to do is fill in their online application form and they'll contact you.
Personal loans with a difference
Because their service is available online this gets rid of all that unnecessary paperwork making it as simple and convenient as possible.
What precisely does MBC Finance look at when completing a loan application?
They do a full credit check with Compuscan with your consent, of course, this is given on completion of the online loan application form. By doing a credit check they're able to decipher whether you fit the profile to qualify for a cash loan. Payment profile is a term that refers to your existing or former loans and or accounts with other establishments.
This gives them the opportunity to separate the good-payers and the not-so-good players who do not pay their accounts. This is quite an essential factor, at least one of your accounts needs to have a good paying track record and is up to date.
The next step after the payment profile has been looked at will be affordability to see if you qualify for a payday loan. Every payment on your credit check will be taken into account, including all other expenses. Please take note that this is in line with the National Credit Regulator.
MBC Finance – Payday loan
Loan Type

Payday loans

Interest Rate

from 19.6%

Loan Amount

up to R4,000

Repayment

7 days to 30 days
Benefits of MBC Finance
Affordable payday loans up to R4 000
No endless paperwork
Quick and easy online applications
MBC Finance - Fast payday loans
Full affordability is generated and sent to you for validation of expenses, etc. It is advised that you be employed at your current company for at least 6 months in order for your payday cash loan application to be considered.
Though it's better you be in employment for at least twelve months. Secondly, they'll take a look at the company you're currently employed with as it's of utmost importance that all the contact details of your company be made available on a public listing in order for MNC Finance to confirm your employment telephonically
Credit score – How does it affect you?
Low credit score: A low credit score can be due to previous difficult times where you stopped making payments to your accounts or loans or perhaps could not afford the larger instalments and then reduced payments, therefore making payments at a slower pace than ought to have been paid.
At times people just get fed up with making payment after payment of debt and no other reason other than just getting fed up. With that being said, it's also possible that there's a low credit score rating due to having no credit history at all, sometimes people enter the job market without having worked before and have no need for debt, this is where MBC Finance can assist with a personal loan for bad credit.
All information is updated with the credit bureau
MBC Finance is able to assist you when credit is obtained from them, the information that you provided on your loan application is then automatically updated on the credit bureau because all their loans are registered, and this can work in your favour or it can work against you.
If your credit is paid as per your agreement this will increase your credit score and make it easier in obtaining an instant loan with MBC Finance. With that being said, if you don't pay your loans or debts on time it will have an adverse effect on your credit profile and unfortunately, be listed as a slow payer and this will drop your credit score.
By not making payments on time and sticking to the agreement you won't have that dream home, car or wedding because your credit rating will affect your chances of any loans you apply for.
Ultimately either of the above comes into play at some point, should you want to purchase that dream home or a flashy new vehicle, perhaps you'd like to start planning a wedding. As you can see, you ultimately always need to keep your payments up to date in order to apply for that loan you may need.
Customer Reviews & Testimonials
"
December 2018
My car unexpectedly broke down and I needed cash to take it in for repairs. I thought I would have to endure a long and stressful application process but luckily, MBC Finance understood the urgen...
Lee N
— Pretoria —
January 2019
I managed to fill in the application form within 20 minutes. It was really easy!
Nonhlanhla B
— Polokwane —
March 2019
Thank you to the entire MBC Finance team for the amazing service I got while I was applying for my payday loan. You guys made the process 10 times better!
Shria M
— Pietermaritzburg —
MBC Finance Contact
Contact Number
E-Mail
Website
Opening Hours
Monday

08:00 – 17:30

Tuesday

08:00 – 17:30

Wednesday

08:00 – 17:30

Thursday

08:00 – 17:30

Friday

09:00 – 17:30

Saturday

– Closed

Sunday

– Closed