Payday loans up to R80,000
Affordable finance
Fast loan solutions
In-page navigation
---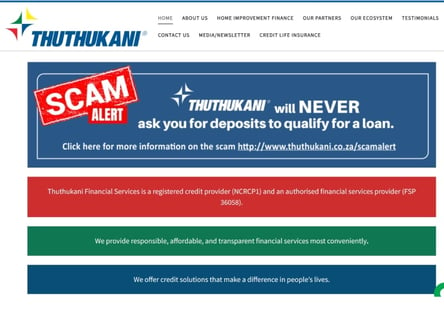 Author Thuthukani Loans. Screenshot of Thuthukani Loans website.


[Accessed January 31, 2023]
Thuthukani - Reliable loans and services
Thuthukani Financial Services is a registered credit provider and has been since 1998.
They endeavour to provide you with affordable and transparent financial products in the most convenient way possible.
They offer payday loan solutions that make a difference in your life.
Their business culture
Their business has a culture that goes beyond the norm. It's one where the treatment of clients is always fair and it goes hand in hand with the 6 outcomes of Treating Customers Fairly as issued by the FSB:
You can be confident that you're dealing with a firm, where treating customers fairly is a pivotal component of their corporate culture.
All personal loans by them are designed to meet the financial requirements of different customer groups and each is targeted accordingly.
You're furnished with transparent information at all times and kept adequately informed before, during and after the sale.
Wherever advice is offered, it's suitable to your needs and financial circumstances.
Their products perform as per the expectation they've led you to expect, and their services are of a highly acceptable standard as lead to expect.
You won't be in a position where you're faced with any unreasonable post-sale barriers that might be imposed by them when it comes to changing the product or switching providers.
Privacy policy
Thuthukani Financial Services (Pty) strongly believe in protecting your privacy and all those who take out quick loans with them.
Their Privacy Policy extends to their current and former clients and this may be reviewed as and when necessary.
The loan terms and conditions will equip you with further information detailing how they collect and process your personal information, and in all cases should be absorbed together with this Privacy Policy.
Bear in mind that only authorised individuals have access to the information that you've given.
You'll get value-added benefits
They strive to bring you the widest variety of loans and benefits.
1. Home improvement loans
This loan type is when funds are directed to the Merchant which enables the applicant to either build, extend or renovate your dream home.
The benefits
The online loan application process is quick and you can expect a personalised interest rate on the loan. As the borrower, you can use this loan to merely purchase building materials if you so wish.
You also have the option to split between the loan over purchases and labour costs. Their loans are available from R2 500 up to R50 000 and their terms extend from 3 months up to 36 months. You have the option to pay this back monthly, weekly and fortnightly.
2. Small business finance
These business loans will ultimately assist in growing your business. It's a flagship product designed for those who own a small business or either are self-employed.
The benefits
It's a simple application process yet again and they offer personalised assistance through professional business development officers.
It offers affordable instalments due to the 36-month repayment terms. You can expect competitive interest rates and monies paid directly to you, the borrower. Loans from R5 000 up to R50 000 with terms of repayment from 6 to 36 months, which can be repaid monthly, weekly or biweekly.
3. Credit life
Credit protection insurance alleviates the worry and the holistic financial burden that you and your family would endure, should you become permanently disabled, retrenched or hopefully not too soon – in the event of your death.
The benefits
When you apply for and obtain a Thuthukani payday loan, credit protection insurance cover comes included. In the unfortunate event of retrenchment, death or disability, the money outstanding on the loan will be paid to Thuthukani by the insurance company.
Thuthukani Loans – Payday loan
Loan Type

Payday loans

Loan Amount

up to R80,000
Benefits of Thuthukani Loans
Get a fast payday loan with Thuthukani loans
Partnering with Thuthukani is one of the best things you'll ever do!
When you partner with them, you can expect value-added service from their in-store payday loans on offer. They'll increase sales and revenue and you can achieve this all through an easy application process.
Disbursements are direct to your bank account, and their experienced support team is standing by to assist you whenever you need them!
Employees and representatives
All staff and representatives of Thuthukani Loans adhere to the policies where privacy is concerned. They're fully compliant when required to be. Any failure by staff employees of Indlu Finance trading as Thuthukani Loans to comply with the policy will be regarded as transgression and will undergo investigation. Depending on the severity of the matter, it can result in disciplinary proceedings.
Policy statement
They're committed to the sagacious management of the business in accordance with the requirements of FAIS and the GCOC when it comes to conflict of interest.
They also undertake to conduct their business with due diligence, complying with the letter of the law, as well as any internal policies and procedures that may come with the territory.
The policy best describes the procedures that need to be followed, in order to ensure that potential conflict of interest is avoided, which best protects your interest.
Should avoiding a conflict seem impossible due to the circumstance, and your interests could be at risk of being inefficiently protected, they'll disclose all the relevant information to you before making an informed decision.
You can expect full coverage when you enter into a finance agreement with Thuthukani. You're covered from the day you sign the policy, even prior to paying a single premium. As your policy starts, you'll need to keep up your payments, or else you'll not receive any credit protection insurance cover benefits.
Customer Reviews & Testimonials
"
March 2019
Thuthukani Loans doesn't hide anything from you; they are open and straightforward. I have been a loyal customer for years now and will still trust them for my lending needs.
Harriet T
— Bloemfontein —
November 2018
The customer consultant who helped me with filling in my application was a real darling and a great example of how customer service should be.
Anele H
— East London —
August 2018
The application process was undemanding. I got through it without any stress, which was nice because I was already facing a stressful situation.
Susan N
— Pretoria —
Thuthukani Loans Contact
Contact Number
E-Mail
Website
Physical Address
19 Onida Ave, Johannesburg, Pretoria, 0184, South Africa

South Africa