Payday loans up to R5,000
Low-interest up to 38%
Repayment up to 65 days
In-page navigation
---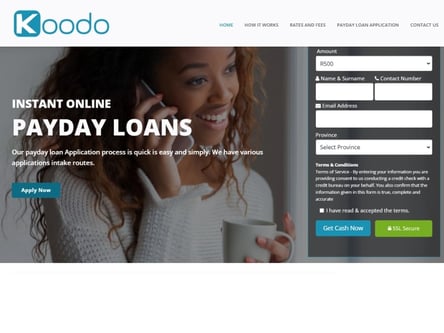 Author Koodo. Screenshot of Koodo website.


[Accessed April 11, 2023]
About Koodo
Are you in need of quick cash? Koodo has some of the best loan packages for your personal needs.
Koodo believes that openness is a core step towards establishing a trusting relationship. Therefore, they've built their principles upon friendship, trust, compassion, and understanding.
Once a relationship has been established between you and the lender, you'll find that the application process is smooth and convenient.
Special franchise opportunities
Koodo has expanded over the years; therefore, they can now assist you in starting your own business. There's no excuse when you can have your financial freedom in no time.
When you access their franchise opportunities, you'll find that they provide complete support and guidance from the planning process until the work is complete.
You also receive the following benefits:
Unlimited income
Plan your business hours according to your schedule
You can work from anywhere
Receive an existing client base
Your financial future will be secured
To apply for Koodo's franchise opportunity, you simply need to contact them, and they'll assist you immediately.
Koodo Services
A payday loan is a small loan that can be used for an emergency.
The loan amount will be due on your next payday; this way, you can solve your financial problem the moment it shows up. With a payday loan, you get to repay it on your next payday, which means your credit score won't be negatively affected.
Friendly financial services provider
Koodo is a registered credit provider specialising in microfinance. They've been in the financial business for more than a decade and have acquired the necessary skills to assist others during difficult times.
They've been dedicated to providing their clients with the easiest and most affordable packages. Therefore, whatever your financial need might be, you can contact Koodo for assistance and guidance.
Interest rates for a payday loan
Since a payday loan is an unsecured loan, you'll find that its interest rate is slightly higher and fixed. Therefore, when applying for a loan, the interest rate assigned will be the interest rate you receive. Their maximum annual rate is currently at 38% with a repayment term of 61 to 65 days.
If you miss a payment or are unable to make the payments as agreed, you'll be charged an additional service fee. This fee is R50, and 5% interest will be added each month that you delay the payment.
Keep in mind that if you miss a payment, it'll reflect on your credit score, which will make it difficult to apply for a loan from another credit provider.
Koodo – Payday loan
Loan Type

Payday loans

Interest Rate

38%

Loan Amount

up to R5,000

Repayment

61 days to 65 days
Benefits of Koodo
Quick and easy payday loans
Simple online loan application
Fast loan approvals
Get your emergencies out of the way with a payday loan
Koodo provides payday loans from as little as R500 up to R5000 on your first application.
Should you repay your loan without any hiccups you'll receive the benefit of an increase in your loan amount the next time you apply.
This means that the more you apply at Koodo, the more you qualify for. Once you become a regular customer, you'll be able to qualify for a payday loan of up to R15 000.
Ways to apply for a payday loan at Koodo
When you apply for a payday loan at Koodo, you'll find that there are two easy ways to do so. You can either apply on their website or through WhatsApp.
Both of them are convenient since you only need to send them your details and attach the required documents. Applying online has proven to be the easiest way since you simply need to go to their application section and fill in all your details as requested.
Once you've filled in all the fields, you'll find that you can add the requested documents to their site. Once it's done, you'll be ready to submit your application.
Should you choose to apply through WhatsApp, you simply need to take pictures of the documents you have on hand and send them on. They'll then follow up on the application process and inform you of the outcome.
Documents required when completing your application
Proof of your ID
Latest payslip
A 3-month bank statement
If you have all these documents ready when applying, you'll get your loan within 24 hours.

Koodo is a trusted & reliable provider of payday loans
In our review, Koodo adheres to the compliance criteria in accordance with the National Credit Act, where the granting the loan will not cause financial distress to the consumer.
✅ Koodo is a registered credit provider in South Africa: NCRCP16647
Customer Reviews & Testimonials
"
October 2022
I have been applying for a payday loan for the last year and seem to be unsuccessful wherever I go. I was then introduced to Koodo and was accepted immediately. I can highly recommend Koodo for t...
Janice S
— Johannesburg —
June 2022
This was my third time successfully applying for a loan at Koodo, and I just received an email from them stating that my loan amount has been increased. I can truly say that I am happy ever since...
Luticia W
— Port Elizabeth —
October 2022
I applied for a payday loan yesterday and received their approval a few hours later. I am super excited and pleased with the assistance I received from Koodo. I have also taken an interest in the...
Natasha D
— East London —
Koodo Contact
Contact Number
E-Mail
Website
Physical Address
2nd Floor Dainfern Square, Corner William Nicol Drive & Broad Acres Drive

Dainfern

2055

South Africa