Payday loans up to R2,000
Low-interest starting from 36%
Repayment up to 40 days
In-page navigation
---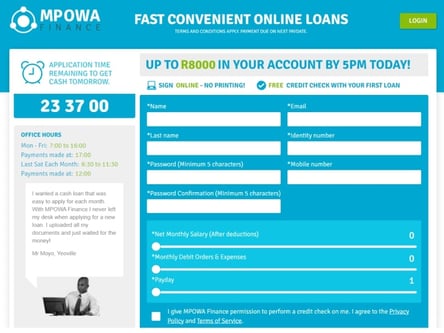 Author Mpowa Finance. Screenshot of Mpowa Finance website.


[Accessed January 31, 2023]
MPOWA Finance - Instant payday loans
Mpowa will offer you the most amazing payday loans that are faster and easier than ever.
Have you ever been in a situation where an unexpected expense happens with bills that are left that need to be paid? A loan from Mpowa can be a great solution for short-term financial issues and has been proven to be extremely effective and convenient.
Tips to make sure you can afford your loan
Before taking out a loan, it would be wise to do some research and calculate whether it would be beneficial or harm your financial situation.
Ensure you understand the terms & conditions you are agreeing to and know what your interest rate will be. It is a great idea to have a plan of action in place that helps you to pay back the loan on time, usually within a few weeks. A payday loan is a quick solution but if you plan correctly, a little can go a long way.
Mpowa complies with the NCR
MPOWA Finance complies with the National Credit Regulator's policy on responsible lending. They wouldn't want to cause you any more debt than what you already have.
A free credit check will be done to get a clear view of your financial records and make sure they give you a loan that will be the most affordable for you.
Payday loans up to R2500
Their fees are transparent and available on the quote that they will supply you with.
Their loan amount ranges up to R2500 with a low-interest rate of 36%. The initiation fee will be R165 plus VAT on a loan amount up to R1000 and anything thereafter is at 10%.and their service fee is R60 per month.
Why they do a credit check
The 3-digit number increases the chances of being approved for beneficial financial products and plays a big role in planning your financial life and prospects.
Mpowa offers a free credit check when you first apply with them and they will use this score to accurately determine your financial track record, including repayment history. This will help them to establish if they are able to approve your loan and for how much.
Seamless and easy online application
Their online loan application is a quick and efficient way of getting a payday loan. Compared to getting a loan from the bank, their instant approval process is quick and efficient while they offer competitive rates.
With advanced technology, you will have the convenience of applying within minutes from the comfort of your own home. The even greater benefit is that the money will be deposited the same day as soon as you are approved. They offer competitive interest rates and financial stress relief that can be a huge benefit for you.
Mpowa Finance – Payday loan
Loan Type

Payday loans

Interest Rate

from 36%

Loan Amount

up to R2,000

Repayment

5 days to 40 days
Benefits of Mpowa Finance
Payday loans up to R2,000
Loan repayment term up to 40 days
Interest rates from 36%
MPOWA Finance - Convenient payday loans
The application process is designed to be done swiftly and hassle-free.
They will ensure that they get all the information required to process your application as fast as possible. And if you apply before 3 pm on a business day, you can expect the funds to be deposited into your bank account a little later.
The requirements to apply for a loan with Mpowa
Your residential address.
ID Number.
Banking details.
Proof of current employment.
Make your financial stress something of the past
When you are stuck in a difficult financial position, Mpowa Finance is the place to turn for fast, same-day, instant cash in your account.
Submit a quick, 100% online application with a few document uploads and that's all they require to give you that financial freedom you need. Contact them today for a fast & convenient online loan application.
Benefits Mpowa has to offer
They are registered with the National Credit Regulator
Instant decision.
Affordable and flexible payday loans.
It only takes five to ten minutes to complete your application.
If your application is done before 15:00 the funds will be deposited the same day.
The application can be done from anywhere and anytime.
Customer Reviews & Testimonials
"
February 2019
A customer consultant got back to me almost immediately after I filled out an enquiry form. I got all the help I needed with regards to applying for a payday loan and the impression I got was tha...
Brenda T
— Polokwane —
March 2019
Thanks for helping me with a payday loan when I was a little short on cash, really appreciate the fast and very efficient service.
Nhlanhla M
— Johannesburg —
August 2021
Thanks for helping me with a payday loan when I was a little short on cash, really appreciate the fast and very efficient service.
Maganda N
— George —
February 2021
I would recommend Mpowa Finance to anyone that needs a payday loan. Their staff is friendly, and they helped me through the whole process.
Adams C
— Cape Town —
June 2021
Great service when I applied online. Fast and reliable consultants ready to assist. I would give them 5 stars.
Hills M
— Bloemfontein —
Mpowa Finance Contact
Contact Number
E-Mail
Website
Physical Address
---
Postal Address
Postnet Suite 462, Private Bag X9, Benmore, Johannesburg, 2010, South Africa