Payday loans up to R4,000
100% Online Loans
Repayment up to 49 days
In-page navigation
---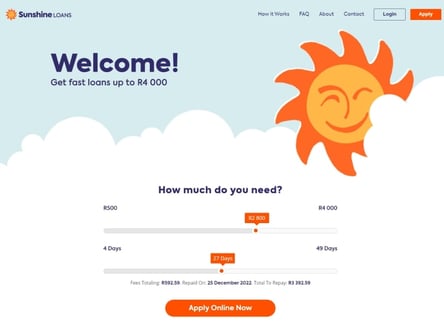 Author Sunshine Loans. Screenshot of Sunshine Loans website.


[Accessed April 12, 2023]
About Sunshine Loans
Situated in Stellenbosch, Western Cape, Sunshine Loans is a loan agency that offers short-term, unsecured loans. They're compliant with the National Credit Regulator (NCR) and believe in responsible lending.
To dissuade consumers from becoming overextended, they do credit checks and you must be employed to access credit. They'll also only allow one loan at a time.
Their affordability check ensures you can pay the money back easily because they're serious about helping you improve your finances. They're dedicated to delivering easy solutions to your problems and have created several products to achieve this with ease.
Sunshine Loans is upfront with you
All fees and interest will be worked out beforehand and shown on the loan contract for your approval before you sign the agreement. Communication is simple and all checks will be done only if you agree to it.
You can always contact Sunshine Loans and make arrangements to pay if anything goes wrong. There's a customer portal for your convenience where you can keep track of your loan and the payments made.
One loan at a time
While it may seem easy to borrow extra money, it's not always a good idea. Sunshine Loans has a policy of only one loan per customer until that loan is paid off.
You're allowed to repay your loan early at no extra cost to you. Having a good repayment history will help, should I need to borrow again in the future. Everything is done online and you can call them if necessary. There's no paperwork. Repayments will be arranged by direct debit on the day you get paid.
Quick cash loans:
Sunshine Loans is a relatively new provider of quick loans. To ensure top-class service they've searched worldwide to find the best solutions. They'll also ensure you don't have to wait any longer than necessary to get the credit you need.
You need to know how much you can afford to repay every month. It's a quick process and the money will be paid out in under an hour. To qualify, you have to be employed but your credit record doesn't have to be perfect. Sunshine Loans knows that sometimes the unexpected happens and wants to help you with a service that is as quick, easy, and as clear as humanly possible.
Sunshine Loans Services
Payday loans are small loans and unsecured, taken over the short term and are ideal for you if you are experiencing cash flow problems.
These loans range between R500 and R4000. This is the sort of loan you might take out to pay for unexpected expenses, such as repairs or to tide you over until your next salary comes in.
Cash advance:
This type of loan is usually less than R4000 and is repaid in under 7 weeks. Similar to payday loans, a direct deposit deducts your repayment and you can generally draw the money on the same day.
Emergency loan:
Sunshine Loans make getting this type of credit quick and simple. Emergency loans often cover vet or medical expenses. Urgent, essential expenses for which you may have yet to plan.
Your repayment will be made in the same way, i.e. by direct debit on your payday, but these loans may carry over a longer period, to ensure payments are manageable. This option becomes available if you have a good lending history with them.
Short-term loans:
These extend over a term of at least 4 days and are repaid in instalments. Usually, the loans are worked out over 2 to 3 months which is how you might typically understand a short-term loan.
Their offering is an online short-term loan of R500 - R4000, over up to 7 weeks. Again payments are set up to be deducted from your account via direct debit on the same day you get paid.
Personal Loan:
These are unsecured loans of under R4000 created to cover larger-than-normal expenses. Your repayments will be taken on future paydays in easy repayments, to make the process easier.
Personal loans with Sunshine Loans are usually larger than typical payday loans and subject to your positive payment history with them.
Sunshine Loans – Payday loan
Loan Type

Payday loans

Loan Amount

up to R4,000

Repayment

4 days to 49 days
Benefits of Sunshine Loans
Easy online loan application
No paperwork
Affordable loan repayments
A quick online application process
There are 3 easy steps to applying for a loan:
1. Your application can be completed online - You can use their loan calculator and their application form. They'll only ask for the most important information to reach a decision.
2. Your application approval is underway - They'll check the information you give them and indicate your loan terms, which can be e-signed. It's easily completed in a few minutes.
3. Money arrives in your account - After you e-sign the loan agreement, they do a few last checks. If you're approved for the payday loan, they'll usually let you have the money by the next business day.
Credit and affordability checks with Sunshine Loans
They're required by law to make enquiries about your ability to repay any loan before giving it to you. Once they get your permission, their system will analyse your information and take just minutes to reach a decision.
Who is eligible for credit from Sunshine Loans?
You'll need to be a South African resident and over 18. You need to be employed and have a regular income.
Information required for a loan from Sunshine Loans
Cell phone number
South African ID number
Details of your bank account.
The process is easy and doesn't require paperwork. You upload your bank statements through their online application form. If you get approval before 5 o'clock on a business day, you'll usually get the money by the next business day. Your information will be safe and will only share it with your permission.
A quick loan is only minutes away
During business hours it usually takes less than sixty minutes to process and approve loan applications.
Sunshine Loans knows that in life, sometimes things just happen and they won't penalise you if your credit isn't perfect.
Sunshine Loans is a registered credit provider and have been around for the last ten years, so you can rest assured that you'll be in good hands.

Sunshine Loans is a trusted & reliable provider of payday loans
In our review, Sunshine Loans adheres to the compliance criteria in accordance with the National Credit Act, where the granting the loan will not cause financial distress to the consumer.
✅ Sunshine Loans is a registered credit provider in South Africa: NCRCP14110
Customer Reviews & Testimonials
"
January 2023
With all of our savings used, we needed a payday loan to cover unforeseen medical expenses. We applied with Sunshine Loans and they assisted us with the cash we needed.
Maggie J
— Uitenhage —
November 2022
A friend told me about the outstanding service she received from Sunshine Loans. I decided to apply for a payday loan from them. They were helpful and professional and approved my loan in record ...
Jermaine A
— Klerksdorp —
October 2022
I would like to take this opportunity to thank the dedicated staff at Sunshine Loans for assisting me with my payday loan application. They are a great bank and I will recommend them to all my fr...
Fikani N
— Port Elizabeth —
Sunshine Loans Contact
Contact Number
E-Mail
Website
Physical Address
25 Quantum Street Technopark,

Stellenbosch

Western Cape

7600

South Africa
Opening Hours
Monday

08:00 – 17:00

Tuesday

08:00 – 17:00

Wednesday

08:00 – 17:00

Thursday

08:00 – 17:00

Friday

08:00 – 17:00

Saturday

– Closed

Sunday

– Closed